FUGITIVE LITE X2 PREMOUNT WHITE WHEE (2) [PL-9058-032 ]
- 21,00%
Prezzo iva esclusa € 15,98
4 pezzi disponibili
PROLINE 'FUGITIVE LITE' X2 PRE MOUNT ON V2 WHITE WHEELS (2)
Pro-Line is putting the competition on the Run with the all-new Fugitive Lite race tyre! The Fugitive Lite is the little brother to the World Championship winning Fugitive tyre with a very similar tread layout but with significantly smaller pins. The smaller pins results in a lighter weight tyre that accelerates and brakes quicker while still maintaining the great wear characteristics that made the Fugitive so famous.

Before the Fugitive came along, the prevailing knowledge for creating a new tyre that lasted throughout the long A-Mains in extreme wear conditions was to design a big and tall tire tread that was spaced out. While this was effective for the day, the tall and stiff tread numbed out the handling and didn't have the speed of the smaller pin race tyres.

Pro-Line's new Fugitive Lite tyre sets the standard for wear and performance with a whole new design
philosophy - small, tightly packed pins that can handle the abuse of today's race tracks. When combined with Pro-Line's incredible X-Compounds, the Fugitive easily has the best performance to cost ratio of any Pro-Line tyre making it perfect for many European style tracks.

Pro-Line is making it easier than ever to use the Fugitive Lite X-Material tyres on your 1:8 Buggy by offering them pre-mounted on White Velocity V2 wheels! Be the first one outrunning the competition with the Fugitive Lite Tyres Mounted to Velocity V2 Wheels!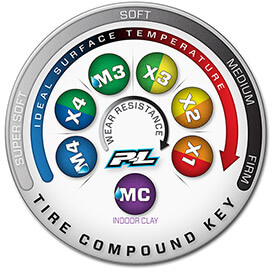 Pro-Line Fugitive Lite Tyre Features:
Smaller and Lighter Pins for faster lap times
Extra Tread Wear for your money
Long Lasting Tread yet still Fast and Agile
Incredible Performance to Cost Ratio
Improved Traction with X-Compound Technology
Long lasting Closed Cell Inserts included
Spec Check:
Height: 4.35" (110mm)
Width: 1.65" (42mm)
---
Lab Certified Select Compounds
Maximum compound grip on low bite surfaces
Compliant carcass produces traction with controlled expansion
Medium wear on wet surfaces


MC:
Minimal tread flex for unmatched mechanical grip on clay
Minimal carcass flex while cornering
Low wear on clay surfaces
Longest wearing performance compound on the market
Maintains stability in High-Speed/High-Heat conditions
Minimal tire growth maintains low CG in corners
Lab tested batches guarantee performance
Most imitated compound on the market
High wear on dry surfaces
Latest and greatest ultra long lasting compound
Substantial leap forward in terms of grip in dry and slick conditions
Stays stable throughout long main events and does not fade or get soft near the end of a race
Lab tested batches guarantee performances
Note*
Privacy policy
Ai sensi del D.Lgs. 196/2003 e successivi vigenti, relativo alla tutela delle persone e di altri soggetti rispetto al trattamento dei dati personali, ti informiamo che i dati da noi raccolti riguardanti la tua persona, saranno utilizzati nel rispetto dei principi di correttezza, liceità trasparenza e tutelando la tua riservatezza e i tuoi diritti.
Invia Richiesta
chi ha comprato questo prodotto ha acquistato anche...